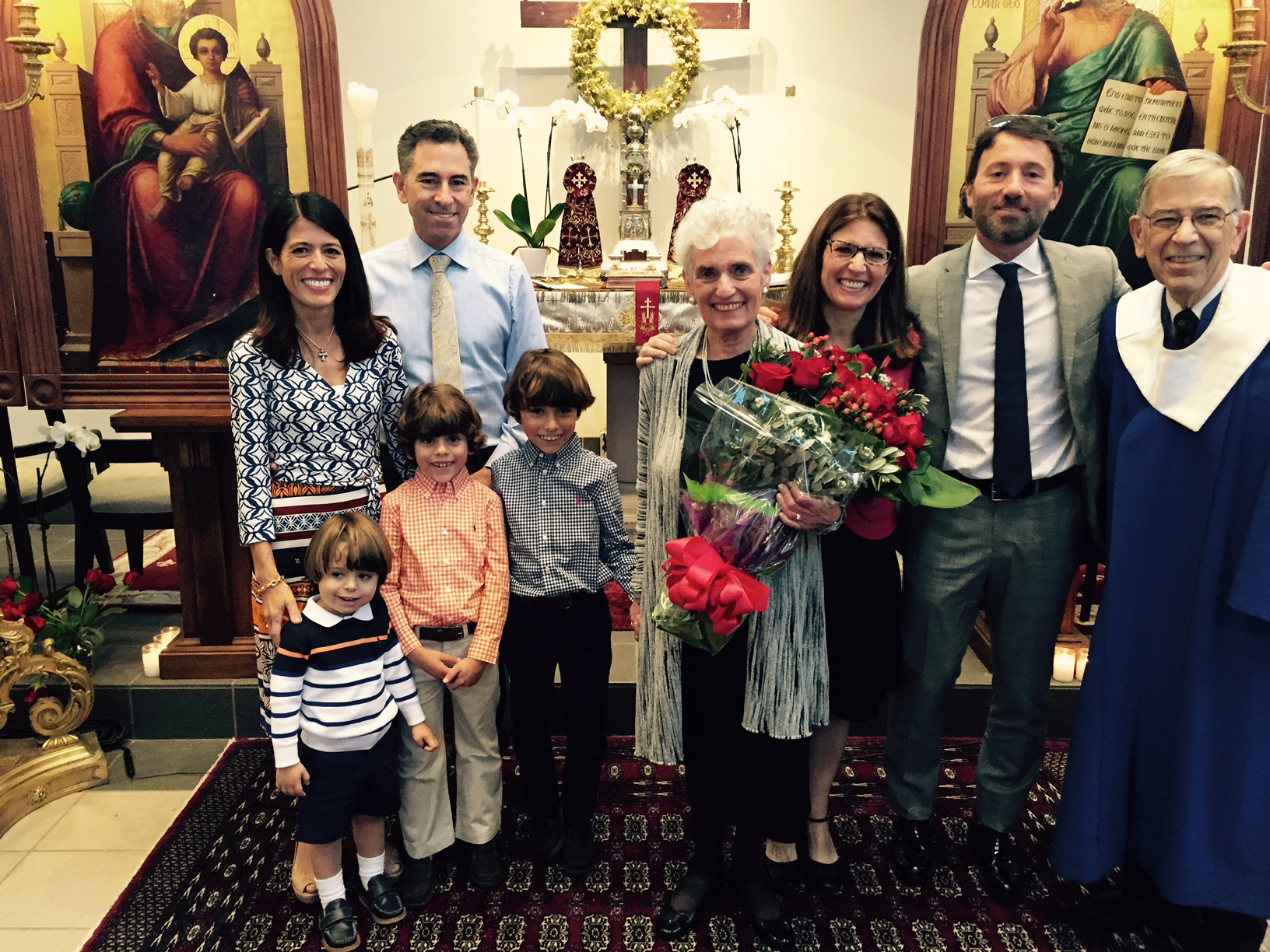 2017 Mother of the Year Irene Poulakidas, shown with her husband, Sakee, children Jennifer, Dean and Georgene and her husband, Bill, and their children
This year's Mother's Day Luncheon and Fashion Show, which took place on Saturday, May 13, and whose theme was "New York, New York," was a smashing success. With 300 guests, a music, fashions, and even a recreation of the Brooklyn Bridge, this Mother's Day Luncheon and Fashion Show—our 58th—was a wonderful tribute to all mothers, at the same time honoring two distinguished Cathedral women: Presbytera Aliki (Vasiliki) Kyriacou and Irene Poulakidas.
Irene Thalia Poulakidas
Irene Poulakidas, the daughter of Harry Manetas and Georgia Demakas, is being honored today together with Presvytera Aliki Kyriacou, as Mothers of the Year 2017. Irene was born in San Francisco on July 7, 1939, and with the exception of her college years, she has lived in San Francisco all her life. The Annunciation Cathedral has always been Irene's parish.
Irene's parents both immigrated to America. Harry left his home in Aipatia on the island of Andros as a teenager to seek opportunity working on the railroads in northern California across Donner Summit. Georgia and her family settled on a farm in Santa Rosa via Athens, after fleeing their town of Alatsata in Asia Minor as refugees during Turkey's persecution of Greeks in the 1920s. Neither Harry nor Georgia ever returned to Greece. Harry moved to San Francisco, met Georgia and they married. They made San Francisco their home where they would raise their children and live the rest of their lives.
Irene grew up in an apartment on 14th and Noe Street, walking distance to Annunciation. During their elementary years, Irene and her brother, Michael, both attended the "Little French School downtown," Notre Dame des Victoires (NDV). Irene continued and graduated from high school from NDV. She then went on to the University of California, Berkeley, where she earned a Bachelor of Arts in Political Science and French. Irene also obtained her lifetime credential in Education from UC Berkeley and taught kindergarten and first grade and substituted in the San Francisco Unified School District from 1962 to 1998. While in college at Berkeley, she befriended another Greek-American girl who lived far from her family. Irene invited Ange Poulakidas to spend holidays with her and the Manetas family in San Francisco when Ange wasn't able to travel to Phoenix to be with her family. Fatefully, Ange reciprocated the philoxenia when she introduced her brother, Sakee, to Irene a few years later. On August 18, 1963, Irene married Sakee Poulakidas. Together, God blessed them with three wonderful children - Jennifer, Dean, and Georgene - and instilled in them all the importance of God's church.
The Annunciation Cathedral has played a big role in Irene's life. She grew up going to Sunday School and being involved with the GOYA here. As an adult, she volunteered in many capacities for the community. She taught 6th grade Sunday School for 18 years. She was a very
active and enthusiastic staff member of the Annunciation Summer Camp in Yosemite, working both on the kitchen crew and with the arts and crafts program for 20 years. She was a founding dance group mother and was instrumental in organizing the first dance groups in San Francisco to participate in the Folk Dance Festival. Since the inception of our Annunciation "Bazaar" and "Food Festival," she has devotedly volunteered preparing food, chairing the take-out booth, and working in the food line.
Early on, she became an active member of the Annunciation Philoptochos and has helped with their activities. She has also been an active member and officer of the Women's Board of the Patriarch Athenagoras Orthodox Institute (PAOI) located in Berkeley since 2004. In addition to her church activities, Irene has been a member of the Daughters of Penelope for 40 years.
Irene takes great pleasure in traveling and exploring new places. She and Sakee have toured many exciting corners of the earth. This began mostly as road trips to visit family and to marvel at the grand National Parks and Monuments in the west with their young children. Along the way, they saw many of the bridges that Sakee had designed during his career as a civil engineer with the Federal government. Then they discovered the airplane, which transported them to further locales in the U.S as well as Europe, Asia, India, and South America. Together with Sakee, Irene also has very much enjoyed cruises all over the world, often taken with some of their close Greek-American friends, "the cruise group".
As Irene's parents instilled in her, and she and Sakee have always emphasized to their children, the importance of education. All three children attended Holy Trinity Greek Orthodox Parochial School and graduated from Lowell High School. Jennifer went to UCLA for college and the University of Texas for graduate school. She has been living and working in Washington, DC for over 20 years, mostly advocating on behalf of public research universities. Dean also went to UCLA for college, later earning graduate degrees from UC Hastings and Columbia University. He is an aviation attorney, living in San Francisco and working as the general counsel for Willis Lease Finance Corporation. Georgene graduated from UC Davis, where she also received her teaching credential. She taught first grade in San Francisco Unified School District for seven years, and then worked for the educational toy company LeapFrog for seven years. She married Bill Kromydas in 2005 and moved to San Diego where they are raising their three sons.
Irene's greatest joy over the past eight years has been being a Yiayia to her three grandsons, Milton (8 years old), Sakee (7 years old), and Leonidas (3 years old). She visits them in San Diego as often as possible and is as proud as can be when they come visit Yiayia and Pappa (Pappou Sakee) in San Francisco and she can bring them to her church.
Irene's commitment to the Annunciation Cathedral and to the community the church serves continues to be a significant part of her life. She is flattered and honored to be recognized alongside Presvytera Aliki this year as Mothers of the Year.