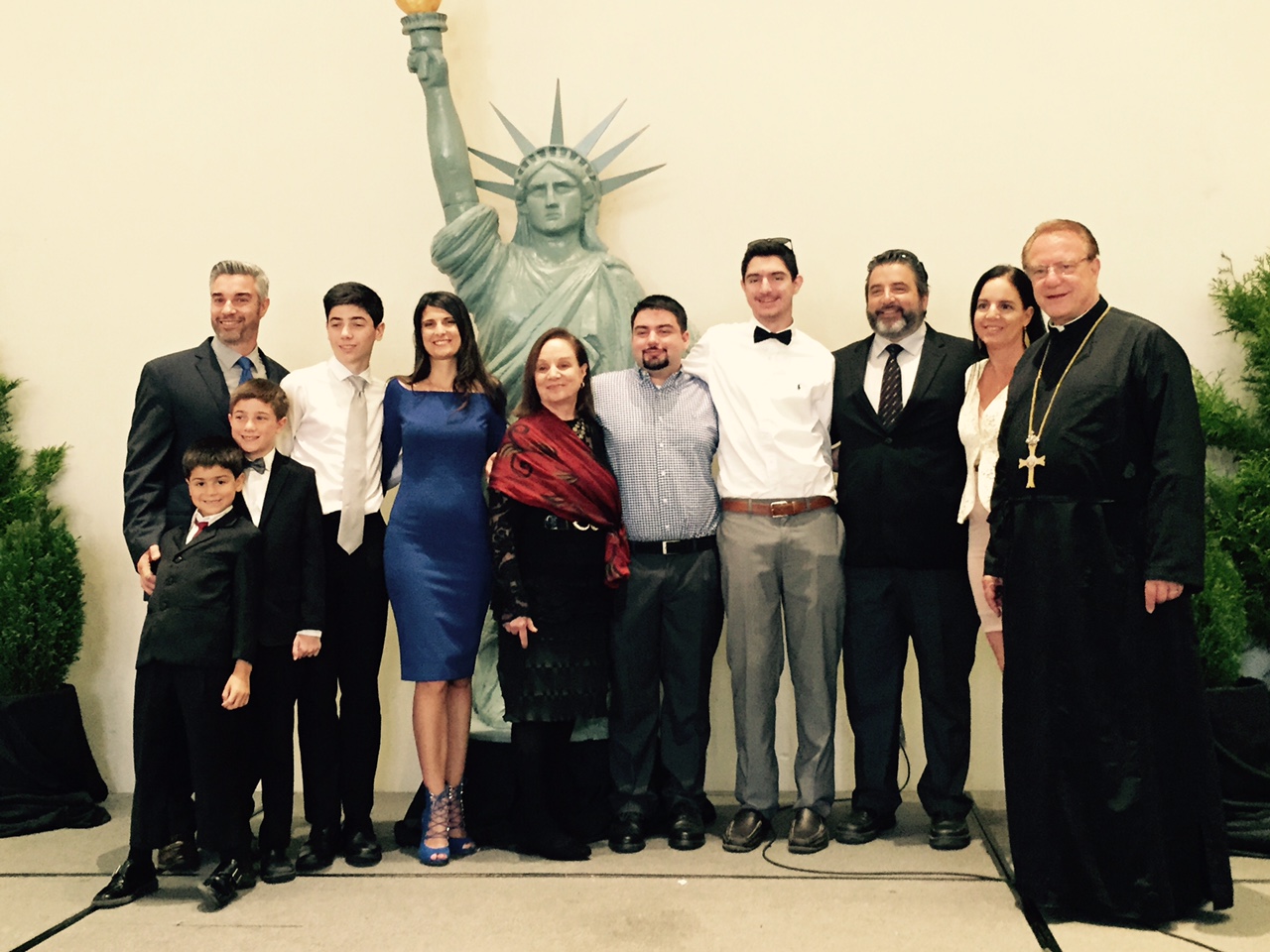 2017 Mother of the Year Presbytera Vasiliki (Aliki) Kyriacou, shown with Father Stephen, their children Erika and Christopher, and spouses Jim and Irene, and their children.
Presvytera Aliki was born in Miami, Florida on December 7, 1944 along with her identical twin sister, Eleni, to Constantine and Afroditi Balikas. At the age of two, her family moved to Atlanta, Georgia and became lifelong members of the Annunciation Cathedral. Their younger sister, Sophia, was born in Atlanta later that year. Their Yiayia Eleni, a very spiritual lady, lived with them and helped to nurture them growing up. The church was only 5 blocks from their home, and Yiayia Eleni would take them to all the church services. Being active in the life of the Church was part of their family routine. Little did Presvytera Aliki realize at that time that this would form the foundation for her lifelong service to the Greek Orthodox Church.
When the twins were Freshmen in college, tragedy struck their family: both their Father and Mother passed away suddenly, only five days apart. Though devastated, they continued their classes at Georgia State University and continued to volunteer at Church. Going to Church helped to fill the void. The Church became their mother. The Church became their second home.
In 1966 at the National GOYA convention in Atlanta, Aliki met handsome young gentleman from Hartford, Connecticut, who was a seminarian at Holy Cross Theological School… Steve Kyriacou. He asked her for a ride to Vespers: "She told him that her car was full!" She asked him if he liked Atlanta. He said "He was not impressed." Later that evening during the Greek dance, she winked at him and the rest is history! On December 29, 1968, Stephen and Vasiliki were married at the Holy Cross Chapel at the Theological School in Brookline, Massachusetts.
In March 1972, while Father Stephen was studying theology at Princeton University, they we blessed with the birth of their first child, their daughter Erika. After Father Stephen was ordained to the priesthood, he was assigned as the assistant priest at the Archdiocese Cathedral of the Holy Trinity in New York City. They lived in an apartment in Teaneck, New Jersey, just across the George Washington Bridge connecting Manhattan. In February 1974, they were blessed with their second child, Christopher, who was baptized at the Cathedral in New York City. While they planted roots in New York, they were not destined to stay.
In February 1976, Father Stephen was assigned as the pastor of Annunciation Greek Orthodox Church in Cranston, Rhode Island, and they moved to the town of West Warwick. And in May 1978, Father and Presvytera were blessed with the birth of their third child, Justin. Although Father Stephen later was assigned to St. Spyridon Greek Orthodox Church in Newport, RI, the Kyriacou family stayed in the same house in West Warwick. Moreover, Presvytera Aliki had stayed at home since Erika was born. But when the children were in grade school, she decided to go back to school. In [YEAR], she received her degree in Interior Design from the prestigious Rhode Island School of Design (RISD). She started working, and eventually found a job in a different field, working as the administrative assistant for a very good family friend, Gregory Demetrakas, who recently fell asleep in the Lord. There, she learned to support and deal with a challenging Greek businessman. Little did she know, that experience would prepare her for what was to come next.
In February 1987, Father Stephen received a call from Bishop Anthony asking him to visit San Francisco, because the priest at the Annunciation Cathedral, Father Theophilos, was retiring. While their roots were in the East Coast, Father and Presvytera decided to give it a shot. They instantly fell in love with the City, and they, along with their three children, moved to San Francisco! A year later, in March 1988, Presvytera Aliki took a position as the executive assistant to Metropolian Anthony, and in 29 years of service she has supported two Metropolitans, including most recently Metropolitan Gerasimos. In addition to her work in the Metropolis, she is actively involved in the Annunciation Cathedral community. Many consider her the informal Ambassador of the Cathedral, greeting visitors and welcoming new parishioners. She is also an ardent supporter of the Cathedral's Folk Dance Groups, always cheering on her grandsons and all of the dancers at FDF.
After Motherhood, being a Yiayia has been her greatest joy! In addition to their children Erika, Christopher, Justin, the births of their seven grandchildren, Antonio, Stephen, Stelios, Vlasis, Panteleimon, Vasilia and Thanos are the greatest blessings of her life. She enjoys going out to support and cheer on her grandchildren at their basketball, baseball and soccer games, and gymnastics meets. And she enjoys hosting her entire extended family on holidays and celebrations. While being a Presvytera is challenging, it is a true blessing! And being part of the Annunciation Cathedral Family and watching the magnificent New Cathedral rise from the ashes is an equally amazing blessing!