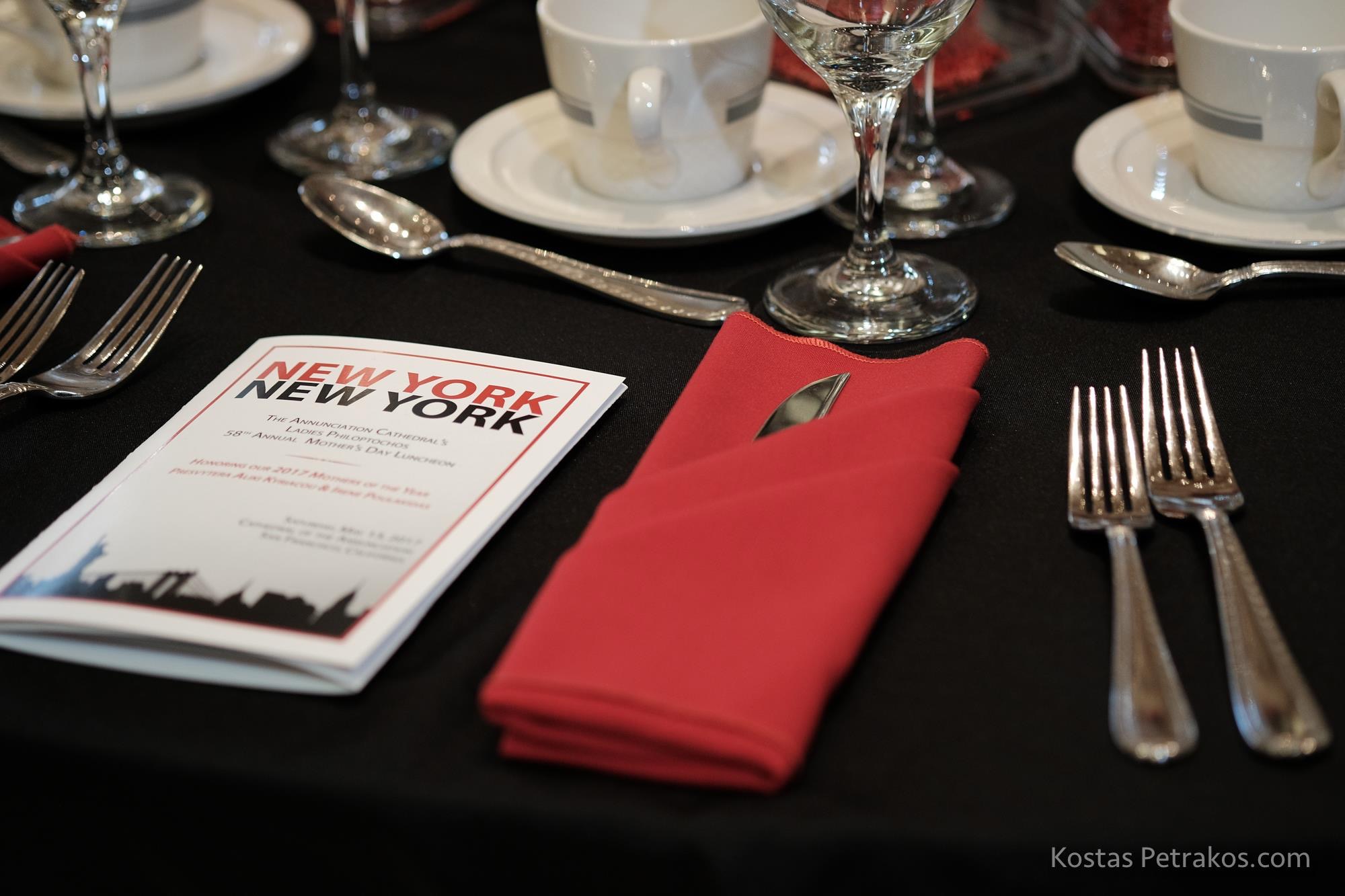 An Outstanding Mother's Day Luncheon and Fashion Show
Saturday, May 13, was, indeed a special day. Not just because of the décor—a recreation of New York, New York, from the Brooklyn Bridge to Central Park—not just because of our honorees, and our 300 guests—not just because of the ambiance—but because of the faith represented in that room. Even when the sound system gave out for a few minutes, the committee regrouped and the "show" went on without a hitch. There was determination, there was that fierce desire to survive and to pass on all that is noble about our faith. Indeed, this was mirrored in the fashion show, which featured 16 models and 17 children! It was the children that brought the house down. An amazing event. A memorable Mother's Day Luncheon and Fashion Show.
All this is encapsulated in Irene Kyriacou's remarks, which we reprint in their entirety. (Irene was chair of the event.)
Fr. Stephen, Pres. Aliki, Ladies and Gentlemen, I'd like to welcome you to the 58th annual Mother's Day Luncheon and Fashion Show, New York New York.
A little over a year ago, I took my very first trip to New York City. I remember being told by many before I went that it was a special city, unlike any other in the world. One lady in particular told me, "you just feel the buzz from the moment you step off the plane." And I sure did..An incredible city indeed! Hence, our theme for this year's event. Today, we are here in our own version of New York, creating our own buzz as only a room full of Greeks can do! New York City has lots of nicknames. It's known as The Big Apple, the City that never sleeps, the Empire City, the city so nice they named it twice, to name a few…but my favorite is: The City of Dreams…
A few weeks ago, I was watching a Golden State Warriors basketball game. My youngest son, Thanos, came in the room wearing a shirt I had recently bought him with a logo now adopted as a slogan of one of the Warriors' star players, Stephen Curry. It is "I can do all things." When Curry burst onto the basketball scene, he had written the bible verse this is derived from on his basketball shoes that he wore for every game. The verse is from Philippians 4:13 "I can do all things through Christ who strengthens me." As mothers, that is how we do what we do – this superwoman balancing act. As people, that is how we push ourselves more and more each day. In Philoptochos, this is how we keep doing the good work we do for our neighbors, communities, and church. That is how we, and especially this priest and presvytera have been perservering for the last 28 years to get this Cathedral built. Almost there…..Notice I said Presvytera too, because as we all know… behind every great man is an even greater woman! Many of you know that Father and Presvytera moved their family to San Francisco from Rhode Island when he was assigned here 30 years ago. However, Father's first assignment was the assistant priest at the Holy Trinity Cathedral in New York City. In the words of Frank Sinatra, "If I can make it there, I'll make it anywhere". Well..You definitely have and You can do All things! So in our makeshift City of Dreams today… my wish is that when you all return next year, that you see a completed Cathedral!
Thank you to everyone who worked so hard to make this event possible. Please enjoy your afternoon with us! Happy Mother's Day!
Patricia Aleck, Philopotchos President, writes:
New York, New York was the fabulous theme chosen for our 2017 Mother's Day Luncheon and Fashion Show held on the 13th of May. Chair Irene Kyriacou and committee outdid themselves by creating a venue that took us to the Big Apple with Central Park, the Brooklyn Bridge and the Statue of Liberty and a menu for the lunch that featured New York cuisine. As nearly 300 attendees walked through the bridge you could feel the high spirit in the room. What a great atmosphere as we honored our two Mother's of the Year Presvytera Aliki Kyriacou and Irene Poulakidas. Father Stephen presented the audience with their bios and they were gifted by our Philoptochos Chapter. Nick Balian, our M.C. for the day, led us through a day of fashions featured by the White Rose Boutique, The Kids Company and B Chick Fashions. One of the hits of the day were the musical renditions sung by Evan Boukidis who sang featured New York songs, many from the Frank Sinatra collection. Kaliope Fousekis wrote and sang a special song in honor of Prevytera Aliki. Janis Petrou and Valerie Roumeliotes chaired a magnificent drawing and Angie Leventis chaired reservations. All in all it was a spectacular day! Everyone is already looking to next year. The question is can we top this one! Again, congratulations to our two worthy mothers who represent all Mothers. Axia, Axia!
Father's Day 2017
Philoptochos will provide a very special buffet coffee hour on Father's Day Sunday, June 18, 2017. On that day we will honor a special person who has helped Philoptochos in many ways. He is always ready to help in baking and preparing the breads and cookies we prepare. He is a quiet, kind and compassionate man who our ladies unanimously chose for this day. His name is Charalambos, Bobby, Fragakis and he will represent all Fathers on that day. Janis Petrou will chair the day. We hope all will join us to celebrate with him and his wife Marianthe and family.
Taste of Greece Festival 2017
Plans are now in progress for the planning of our September Festival. Once again Philoptochos will be in charge of pastries as well as help in other food prep. We need many hands to help in the coming months. Please check with Philoptochos and the upcoming schedule and mark you calendar for our baking days. We need you! Philoptochos will hold its final meeting of the 2015-2017 term on Sunday, June 4, 2017 following Church service. We area pleased to say that we have generously completed all our Philanthropic Metropolis and National commitments for the year. In addition, we are close to fulfilling our $25,000 pledge to the Capital Campaign since November of 2016. At this meeting we will elect our new board and its officers for the 2017-2019 term. I look forward to congratulating the new board and its officers. This will be my last article as President. It has been a pleasure serving with all the wonderful women of Philoptochos. They have given me much support and help are very special with huge giving hearts. I can't thank them enough.
Happy summer to all our Annunciation community from Philoptochos!