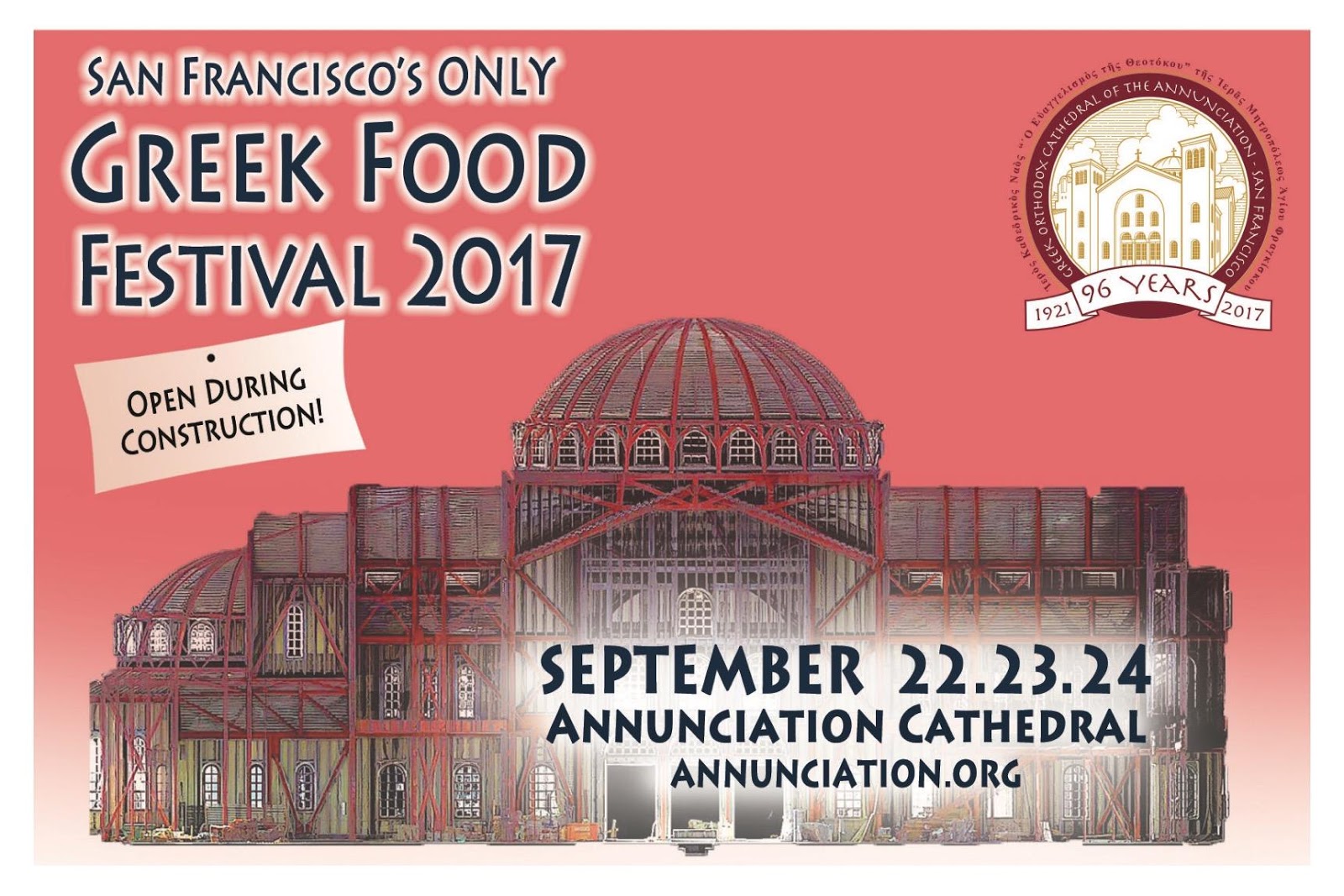 As announced, our Festival will take place on our grounds at 245 Valencia Street, San Francisco, Friday, September 22, Saturday, September 23 and Sunday, September 24. Food preparation has begun and festival post cards, sponsorship forms, and festival book contract forms for placing ads have all gone out. By now, those who placed an ad in our 2016 Festival book have responded, in most cases renewing their ads. We are grateful for your support of the Festival Book, as it brings in HALF of the revenue of the Festival itself! (Thanks to you and to the efforts of Angie Leventis and Presbytera Aliki.) We are also grateful for your sponsorship support, which helps underwrite the cost of the ingredients used for the food. Last year, within two weeks, all of the food items were underwritten! We applaud your spirit and generosity.
One new feature this year is that we expect to have full use of the courtyard, so people can mingle outdoors. The outdoor space encircles the new Cathedral. Eventually, we will a variety of plants and shrubs around the perimeter. Eventually, as well, we will have an outdoor fountain, with water cascading over the central bowl, supported by "Theodosian" columns, and onto the mosaic floor, evocative of the Stobi baptistery. (We've written about the mosaics in previous issues of the Herald.)
Also, new this year is an intensified advertising campaign, including better utilization of our web site, Facebook, and street signs. Our goal is to reach 10,000 people. Meanwhile, we will be featuring our old favorites: gyros and lamb (again, thank you, George Gavros), loukoumades (thank you, Ambus family and Soteria), and glyka (thank you, Philoptochos ladies), even as we streamline our operations, thank you, Genie Mantzoros and Mauna Arnzen. And dance we will. We hope to do that on the courtyard, where one of our tavernas will be stationed, thanks again, Nick Svetcoff. Thanks, as well, to the behind the scenes, hardworking volunteers—Manoli Pappas, who secures the permits, Maria Allen, who coordinates the volunteers, Nick Balian, who designs the graphics, Larry, Joseph, and Tom Moulas, who take care of set-up and clean-up, and, of course, the executive committee of the Parish Council, who are this year's chairs, along with the incredible assistance of Tessie Calligeros, Deno Konstantinidis and Grace Koutoulas, and many more.