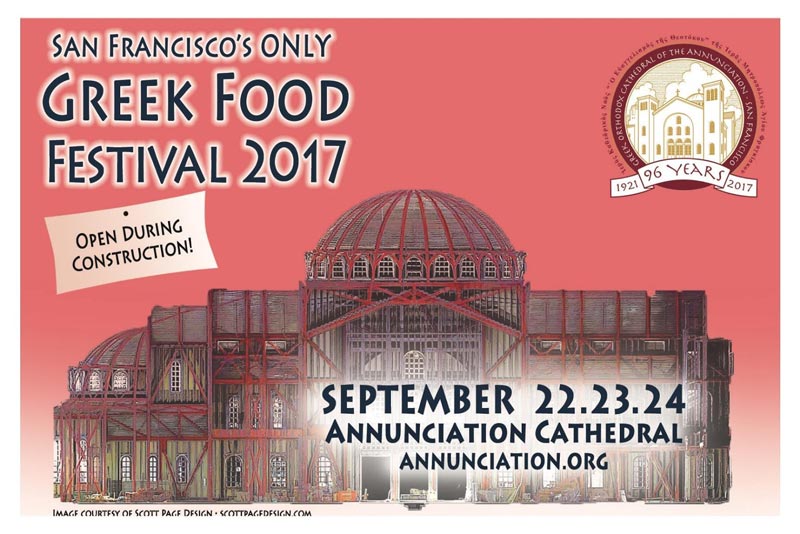 Everything's a go for our annual Greek Food Festival, which will take place on our grounds at 245 Valencia Street, San Francisco, this year, on Friday, September 22 (12 noon to 10 pm), Saturday, September 23 (12 noon to 10 pm), and Sunday, September 24 (12 noon to 8 pm).
Food preparation is about half done (the rest will be done in September—please refer to the calendar—and some, like the salata, will be done during the course of the festival itself). We want to thank you for your support in the preparation stage and look forward to your participation in the execution stage. Thank you for your support of the Festival Book, as it brings in HALF of the revenue of the Festival itself! (Nearly $50,000 has been raised to date).
We are also grateful for your sponsorship support, which helps underwrite the cost of the ingredients used for the food. Within two weeks of the sending out the sponsorship forms, all of the food items were underwritten! We applaud your spirit and generosity. That's what Annunciation is all about! Now, on to the Festival, where you will savor Greek food, including glyka (sweets), and enjoy dancing, both by viewing the Cathedral's and other Bay Area dance groups, and by dancing yourselves to the music of DJ Levendopedo on Friday and Helios Greek Band Saturday and Sunday. We are looking forward to sharing of our faith and our cultural heritage.