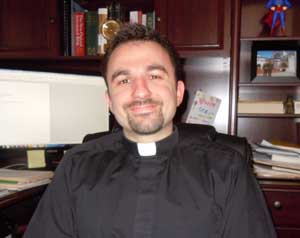 Father Niko currently serves as Annunciation's associate pastor.
Father Nikolaos (Niko) Bekris was born in Seattle, Washington in 1981, and was baptized at the Church of the Annunciation in Amaliada, Greece on August 15, 1982. After graduating from the University of Washington in 2004 with a Bachelor's degree in History, he enrolled at Holy Cross Greek Orthodox School of Theology in Brookline, Massachusetts, having felt a calling from the Lord to become a priest. He finished his studies in 2008, graduating with a Master of Divinity.
Upon completing his studies, he served from three years (2008-2011) as the Youth Director of the Metropolis of San Francisco while also serving at the Greek Orthodox Cathedral of the Annunciation in San Francisco. He was ordained to the holy deaconate on December 14, 2008, at his home parish of the Assumption in Seattle, Washington, and was ordained to the holy priesthood on August 15, 2011 at the Annunciation Cathedral. He now serves, full-time, as the associate pastor of the Annunciation Cathedral.
Upon graduating from theological school, Father Niko married the love of his life, Stella Zahariudakis. They were wed on August 16, 2008, at Presbytera Stella's home parish of the Nativity of Christ Church in Novato, California.
Father Niko enjoys ministry a great deal, particularly youth ministry and the capital campaign to build the new cathedral. He enjoys spending time with his wife, Greek folk dancing, contemporary Greek and American music and the city of San Francisco. He is also an avid Seattle sports fan, and comic book/graphic novel reader.
Father Niko can be reached by email, This email address is being protected from spambots. You need JavaScript enabled to view it. or by calling the Cathedral office at 415-864-8000.
Greek Orthodox Cathedral of the Annunciation, San Francisco